7 Tips to Stay Safe This Halloween While Trick-or-Treating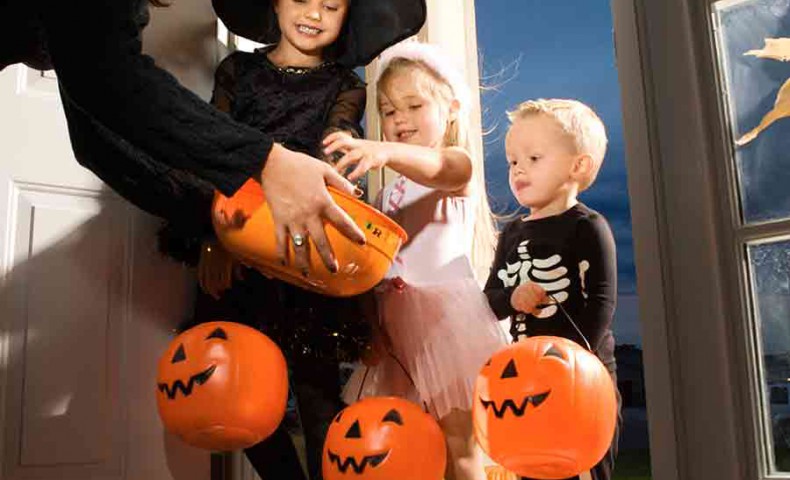 Ready to go trick-or-treating? We know the kids are! Staying safe during Halloween should be your first priority, (the candy is second, of course!) 
We talked to Dr. Mia Finkelston, who treats patients using LiveHealth Online, about some safety tips for going out trick-or-treating.
Check out these 7 tips to make sure everyone has a safe, fun night! 
Bring a flashlight as you walk, as the seasons change, it's getting darker earlier and not every neighborhood is as lit up with streetlights.

Speaking of lights, don't go to houses that are not lit up. As a rule of thumb, it usually means they're not passing out candy, and it's best not to bother them.

Be sure to stay in groups when trick-or-treating. If you're going in a large group, count on the buddy system and make sure if you're the parent you know who is with you as well as what their costume is.

When possible, wear light clothing so that cars and other people see you. If your costume is dark then have one item on you that is either white or reflective. Cars will still be driving through the neighborhood, so it's better to play it safe.

If you are driving to different neighborhoods or out, use caution and drive slowly. Not every little one hangs on too their mother's hand tightly, so keep your eyes open so there aren't any accidents. (Note: Dr. Mia encourages walking instead of driving! She says, walking is a good form of exercise for the Moms as they supervise the kids, plus it's more time to socialize with friends and neighbors you may not see as often.)

Dress warmly, depending on the weather and your home's climate. Even if it's 60 in the daytime, the temperature may drop to the 40's in the evening once the sun goes down. Layers help! The kids may want to have the perfect costume, so layer under their outfits in order to keep them warm enough. No one wants to be sick the day after trick-or-treating, especially because they wont be able to eat the candy!

Once you're back home, inspect the candy before the kids eat it. Don't eat anything that is loose and not wrapped. Also, if someone gives you homemade food, make sure you know the person who gave the food to you and the kids.
Also, if you're passing out candy, try handing out healthier snacks such individual popcorn or pretzels instead of the usual candy is a great change up. A lot of kids have food allergies or dietary restrictions, so they may appreciate stickers and fun novelties instead of food.
Stay safe and warm this Halloween. If you do encounter any illnesses or allergic reaction, remember you always have a doctor in your pocket 24/7. Make sure you're registered in case you or your child need to see a doctor using LiveHealth Online before or after trick-or-treating.
Speak to a doctor online about these issues and more