5 Ways to Keep Kids Safe in the Winter Weather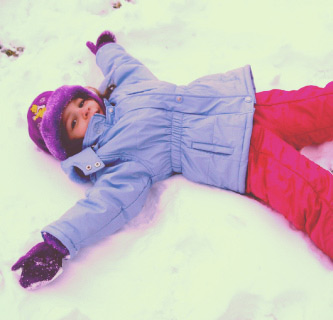 Even though it's March, it's still cold, so keeping your kids protected while they're playing outside is important.
Try these Winter weather safety tips for kids.
Keep your kids bundled up. Layers are vital during frigid temperatures. Try thermal underwear, wool socks, vests, ski pants, gloves, water-resistant jackets, scarves and waterproof boots. Never forget the hat: Keeping your child's head covered is extremely important! Also, if your children are playing outside for long stretches of time, it's a good idea to have them come inside every so often to warm up.

Use the buddy system. You may not stay outside with your child, especially if they're older, but they should never be alone. Make sure they have at least one other person with them at all times in case something happens.

Keep your kids hydrated. Even when it's cold outside, dehydration is possible. Introduce other liquids such as soups or hot chocolate to keep it interesting.

Make sure your children wear sunscreen. The winter sun can burn. Any exposed skin should be protected. This includes their lips as well. Try lip balm with sunblock.

Check in with your children. Ask them how they are feeling. Examine them for symptoms of frostbite. Be on the alert for waxy, hard, white or grayish-yellow skin, numbness or a burning sensation. If the skin turns blue or purple or is splotchy, consult a doctor immediately.
If you have questions about severely chapped skin, frostbite or staying healthy while being active outside, you can always reach a board-certified doctor online from your home at www.livehealthonline.com or download our app at Google Play or the App Store.
Speak to a doctor online about these issues and more