10 Tips for Healthier Spring Cleaning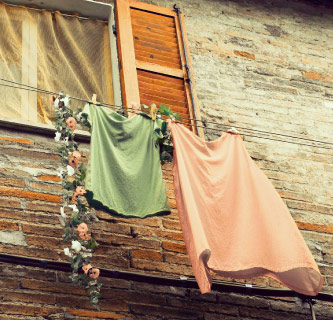 Are you looking for healthier ways to clean your home? Here are 10 simple ideas to upgrade your spring cleaning regimen. 
Dust with cloth materials, like wool, that use static to pick up dust. This method doesn't require any sort of cleaning spray. 

Use toothpaste or a homemade recipe of baking soda, vinegar and boiling water to polish silver. These alternatives will fully restore the shine of your jewelry and silverware without harsh chemicals, and you can save by not purchasing cleaning products that you don't really need. 

Don't underestimate the power of hot water, baking soda and vinegar. By using these substances to clean bathrooms, including drains, you avoid interacting with the harsh chemicals in common bathroom cleaners. 

Clean marble, tile and granite floors with hot water; hardwood and laminated floors with a white vinegar and water mixture; and linoleum floors with hot water and a bit of liquid soap. And use cotton towels instead of microfiber mops, which are composed of scratchy plastic. 

To get your chopping block clean, spray it with vinegar and let it sit overnight, microwave it or dab it with alcohol. 

You've probably heard this before: Sponges that sit in sinks all day are filthier than your toilet. One way to kill most sponge bacteria is to soak sponges for five to 10 minutes in white vinegar. Rinse them, ring them out, and then let them air dry, preferably outside in the sun.

 Don't forget to clean or replace air conditioning filters in window units. Simply dusting the grills of an air conditioner is not enough. 

Dispose of computers, batteries and toxic trash, like paint, by dropping these items off at places that are set up to specifically handle this kind of refuse. Your local sanitation department will have a list of where to drop off.

Do periodic mold checks. Mold can cause respiratory problems and allergies and should be dealt with immediately.   Inspect your bathroom, ceiling corners, attic, and basement. Check under your rugs.  A good rule of thumb about mold is: If you can see it, you can clean it. To tackle mold you can see, the Environmental Protection Agency suggests wearing gloves and using a stiff brush, environmentally friendly detergent without any dangerous chemicals, and water.  Consider using a mixture of tea tree oil and water or pure white vinegar. But if you find mold hidden in a dry space like an attic or in sub-flooring, call a professional immediately.

Evaluate the cleanliness of your mattress. Wash your mattress cover; vacuum the actual mattress; spot clean stains with DIY mixtures like hydrogen peroxide and soap or lemon and salt; deodorize by sprinkling baking soda on top; then air it out in the easiest and safest way you can. Mattresses should be replaced every five to 10 years, depending on how worn down they are and how many permanent stains have accumulated.
Speak to a doctor online about these issues and more