Power of Tomatoes: Roasted Tomato Basil Soup Recipe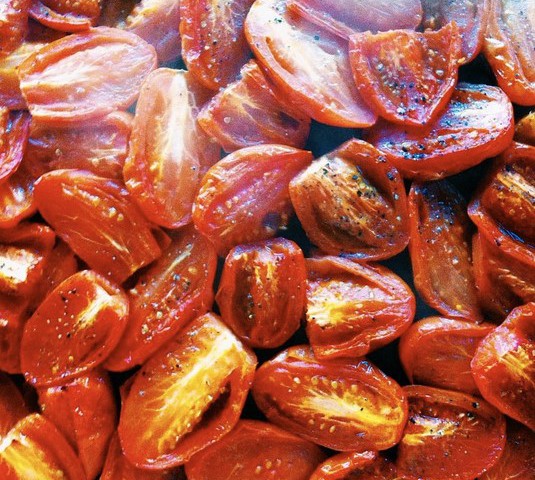 In celebration of the power of tomatoes, here's a super simple recipe from Ina Garten for Roasted Tomato Basil Soup that's sure to be a crowd pleaser.
Roasted Tomato Basil Soup
Preheat the oven to 400 degrees F. Toss together 3 lbs ripe plum tomatoes, 1/4 cup olive oil, 1 tbsp salt, and 1&1/2 tsp pepper. Spread the tomatoes in 1 layer on a baking sheet and roast for 45 minutes.

In an 8-quart stockpot over medium heat, saute 2 chopped yellow onions and 6 cloves minced garlic with 2 tablespoons of olive oil, 2 tbsp butter, and 1/4 tsp red pepper flakes for 10 minutes, until the onions start to brown. Add one 28 oz can of plum tomatoes, 4 cups basil, 1 tsp thyme, and 1 quart chicken stock or water. Add the oven-roasted tomatoes, including the liquid on the baking sheet. Bring to a boil and simmer uncovered for 40 minutes. Use a food mill, blender, or immersion blender to reach your preferred consistency. Taste for seasonings. Serve hot or cold.
Favorite way to eat it? Hot, with the tomatoes still chunky, along side a piece of sourdough bread!

See this recipe and more Health Tips on our Facebook page.
Speak to a doctor online about these issues and more